Lectionary 152
From Textus Receptus
Lectionary 152, designated by siglum ℓ 152 (in the Gregory-Aland numbering) is a Greek manuscript of the New Testament, on parchment leaves. Paleographically it has been assigned to the 9th century.[1]
Description
The codex contains Lessons from the Gospels of John, Matthew, Luke lectionary (Evangelistarium) with some lacunae.[2] It is written in Greek uncial letters, on 224 parchment leaves (31.5 cm by 23 cm), in two columns per page, 24-25 lines per page.[1][2]
It has decorated headpieces and initial letters. Headpieces are with geometric and foliate decoration in gold or silver.[3] The initial for epsilon has anthropomorphic motive with blessing hand (see illustration).
The manuscript is ornamented, the uncials leaning to the right, a fine copy, with small uncial notes.[4]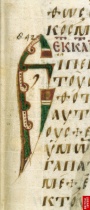 History
The manuscript was named Codex Prusensis from Bursa (in Anatolia or Bithynia).[2]
It was acquired by John Covel, who was a chaplain of the Levant Company in Constantinople between 1670-1676, who brought it to England in the 1670s. After 1676 Covel worked at the Christ's College in Cambridge. He sold it to Robert Harley on 27 February 1715 (or 1716).[3]
The manuscript was examined by Gregory (1883).[2]
The manuscript is not cited in the critical editions of the Greek New Testament (UBS3).[5]
Currently the codex is located in the British Library (Harley MS 5787).[1]
See also
Notes and references
Bibliography
External links